You've gotta be kitten me.
A real life cat circus that features 19 cats and a chicken will perform at the Leo Rich Theater Feb. 15. 
The show is called The Amazing Acro-Cats featuring Tuna and The Rock Cats.
Guests can expect to see "semi-organized chaos," says Samantha Martin, cat trainer and chief executive human of Amazing Animals.
"The cats have minds of their own," Martin says. "Every show is different because we never know what the cats will do or not do."
During the show, the cats walk a high wire, roll barrels, jump through hoops, ring bells and spin pinwheels.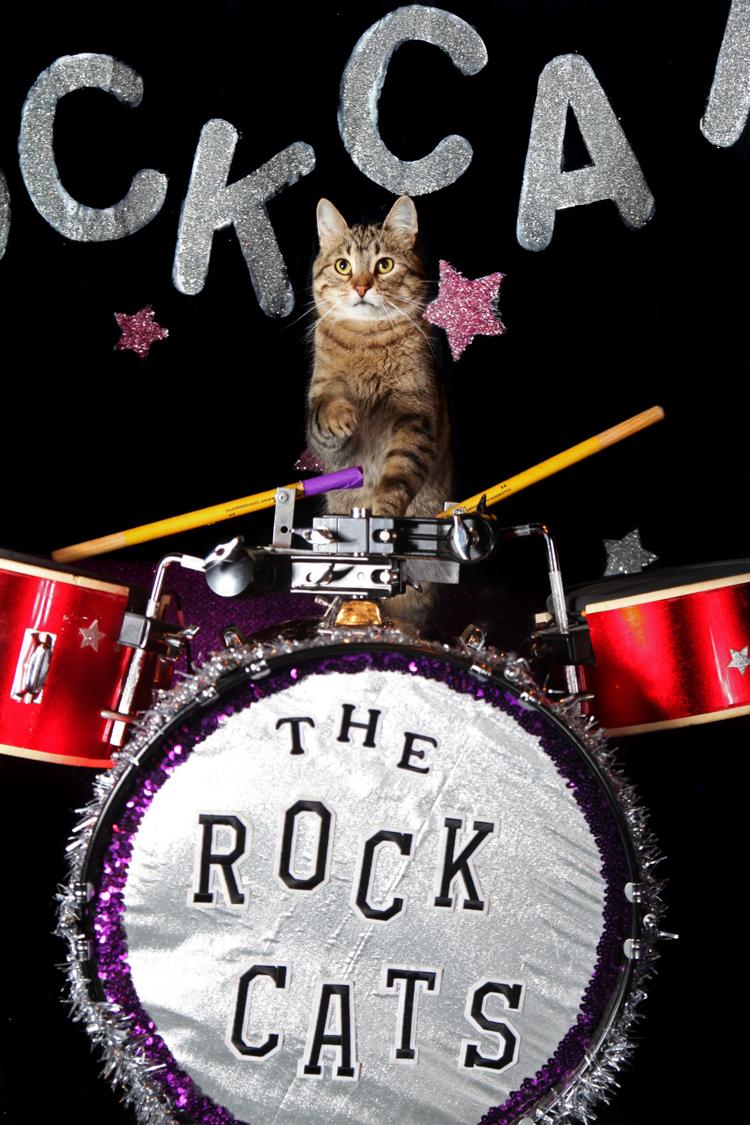 Oh, and there's a band that actually plays mew-sic. The cats play the piano, drums, guitar and a saxophone. It's gonna be cat-tastic.
"The cats on guitar actually strum the strings and we have the drum sticks on a teeter totter thing so they hit one end and it hits the drums," Martin says. "So most of them are actually playing instruments."
Let's not forget the chicken, Cluck Norris, who plays the cymbal and the tambourine. 
Martin who's always worked with animals, wanted to train cats for film and television since there aren't many cat trainers. But, since she didn't have a reputation as a cat trainer she had to find a way to show off her skills without actually getting hired. 
She started going to public events like art gallery openings and pet expos to show off her trained cats in front of an audience. 
"So I developed the show like that and then we got booked for a pet expo and I added music and turned it into a show," Martin says. "I booked my first theater in Chicago in 2008 and started touring in 2009 and it just kind of grew and grew from there."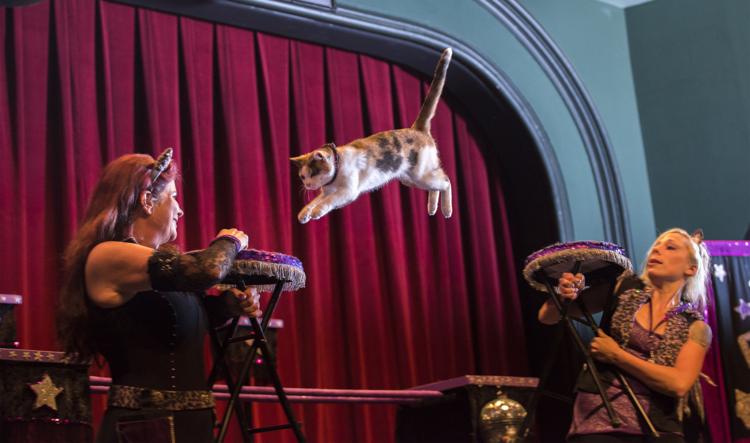 Martin also uses her show as a way to adopt out kittens she rescues while on tour. Martin and her two assistants have found homes for 230 kittens and cats since 2009.
The 19 cats in the show are Martin's personal pets and are former fosters and rescues. 
For Martin, the best part of performing is the cats themselves.
"They're intelligent, agile and affectionate and have such minds of their own," Martin says. "You can't really rush a cat. That makes the show funny. They come out and stretch and sometimes roll around on the ground and then run amok. They throw in something you don't expect them to do.
Plus it's rewarding to curl up at the end of the day covered in cats."
If you go
What: The Amazing Acro-cats Tumble into Tucson
When: Friday, Feb. 15, 7 p.m. 
Follow the adventures of The Amazing Acro-cats here.
Angela Pittenger | This Is Tucson