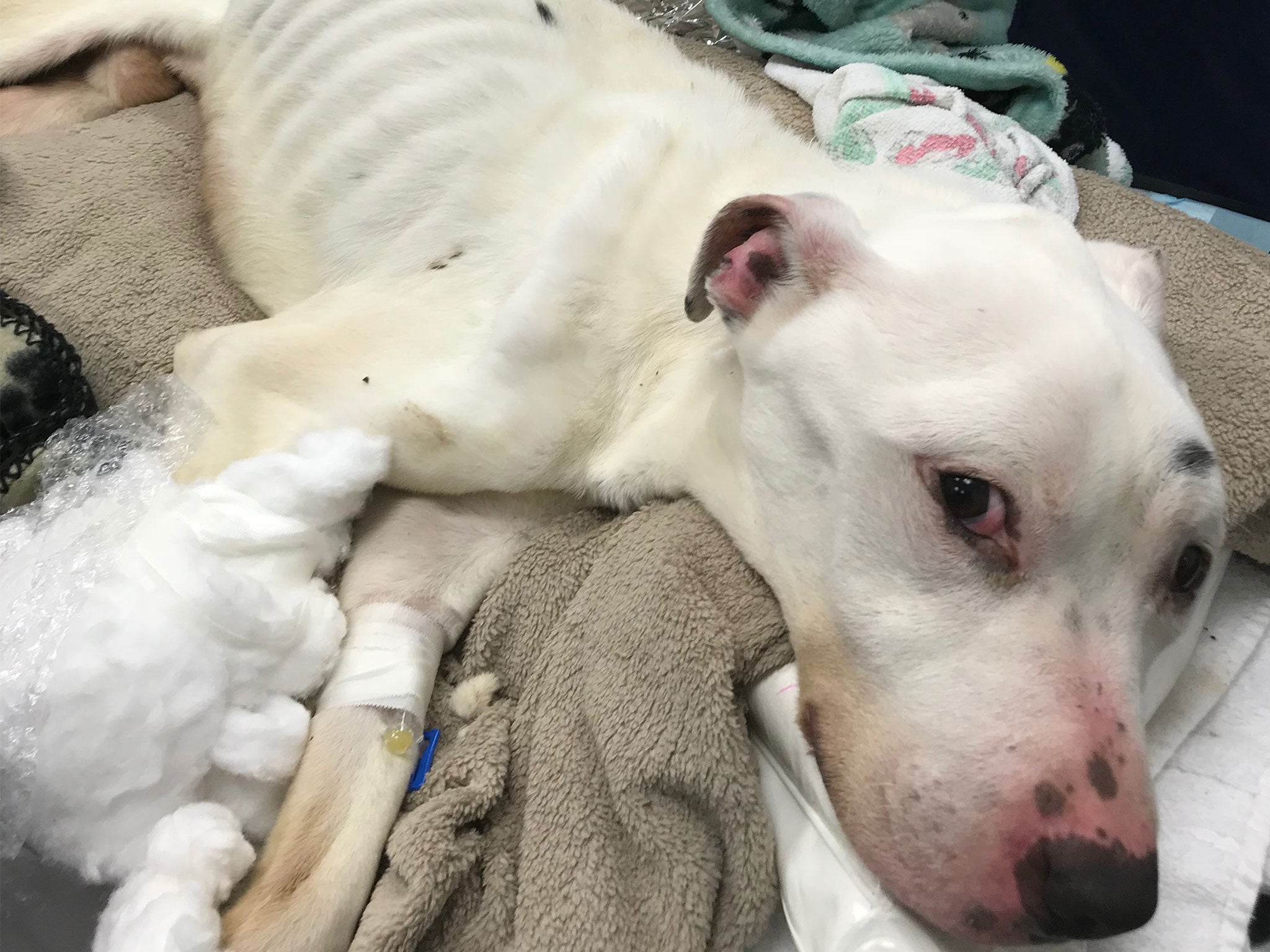 A dog described as the "thinnest ever" seen by RSPCA inspectors has been found abandoned at a home in Lancashire.
The starving bull breed type, since named Eric, appeared to be trying to survive eating pieces of glass and batteries when he was discovered by a member of the public in Accrington three weeks ago.
Eric appeared severely emaciated when he was found alone in the garden of the empty house and soon collapsed from exhaustion.
The dog, which was so thin its entire rib cage was visible underneath its skin, had to receive specialist care from veterinary staff for a week.
"As well as being the thinnest dog I've ever seen alive, he had very overgrown nails and was absolutely covered in urine," RSPCA inspector Nina Small said. 
"His faeces had pieces of glass and metal as big as a 50 pence piece in it, and bits of batteries.
"I believe poor Eric has been confined somewhere out of sight, eating whatever he's been able to get in his mouth – perhaps a garage or a shed."
Eric has since been put on a recovery diet and his condition has improved significantly – gaining more than one kilo since he was first found.
The RSPCA is now appealing for information to determine who as responsible for the dog's plight.  
The organisation asked for anyone with CCTV in the Ribblesdale Avenue area of Accrington to check CCTV to find out how Eric had come to be dumped in the garden.
"He's now able to stand and can take a few steps and it's looking like he's turned a corner, but he still has a long way to go," Ms Small added.
"He's just gone to a foster home where he is continuing to get the TLC he needs to hopefully continue to recover."
---
Anyone with information is asked to contact the RSPCA appeal line on: 0300 123 8018
---
We'll tell you what's true. You can form your own view.
At The Independent, no one tells us what to write. That's why, in an era of political lies and Brexit bias, more readers are turning to an independent source. Subscribe from just 15p a day for extra exclusives, events and ebooks – all with no ads.